I've recently been asked what a typical day of our homeschool is like. The best answer I guess is that there IS no typical day! Some days, Reese feels like moving from activity to activity...and I can guide him towards the educational ones. Well, having said that, I guess every day is like that. Some days I can guide him towards what I consider "educational", but in reality, PLAY is his education...so anything he's doing is educational!
I have also been struggling with making a schedule, more for myself than for Reese's needs. In September, I had a great daily schedule with "school" for this period of time, and lunch at this time, and so on. Yeah, right! Our days do not really function like that around here, and Reese's desire to "do" school on my schedule really does not exist. In reality, though, I think our open-ended schedule we have now works better for him. Some mornings, he wakes up & is ready to play, and is open to ideas from Mommy. Other days, he wakes up SO grumpy (don't we all sometimes?) and he just wants to veg & watch TV. Lucky for Mommy, he loves shows that I consider educational (Sesame Street, Go Diego, Dora the Explorer, Wiggles, etc.) so I feel like he's getting some brain-food even from his shows.
At night, sometimes he's ready to really sit down & focus on an activity, and some of our biggest learning moments have happened at night before bed, which NEVER was on my old schedule!!! So I think we'll just stick with the open schedule. Trying to take Reese's cues & engage him when he wants to...and to back off when he's just doing his own thing. After all, independent creative play is also important!
I followed him around Saturday morning & this was his morning: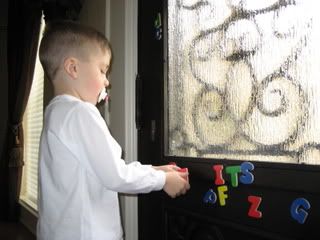 Playing with magnetic letters that Mrs. Denise, Austen, & Sissy gave him for Christmas. He loves to put up letters & have Mommy sound out the "words" he's making. I read in one of my books that he is, indeed, making words...perhaps not dictionary words, but words none the less. So we continue to sound out anything he puts together & he thinks it's great fun!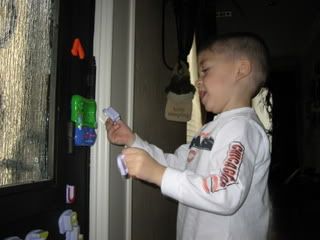 Playing with the Leap Frog Fridge Phonics set. He is doing great with his letter recognition & sounds.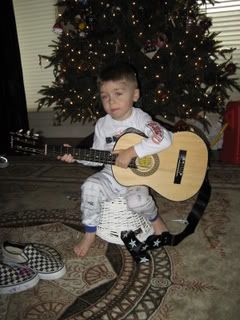 As always, music is part of every day at our house! Reese loves to play his guitar, & has already asked me multiple times if he can take lessons...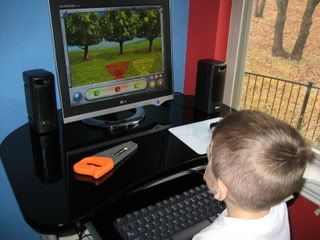 Playing Jay Jay The Jet Plane game. This particular part is sorting apples into the proper bakset color...red apples in the red basket & so on. He is able to do this game independently, which gives him great pleasure in his success! While he plays, I usually answer questions and watch the birdfeeder outside the playroom window & snap pictures of the birds. We are building an "Our Backyard Birds" wall in the hallway so we can remember the birds we've seen.
Building blocks & sorting by colors. Reese loves a show called Balmory, and each character lives in a different colored house. From the big pile of blocks, Reese picked out each color group & then built the houses for the characters. Math, fine motor, & pretend play skills all in one!
This shot was right before he smashed them all down!