OK...I am so very far behind on updating the Blog. Only two days, you say...we'll we've done a handful of things already this week & I really need to get working on Blog entries! So....we'll start with Monday & work up to today.


Monday was Homeschool Day at Mainstay Farms in Burleson. I wasn't sure what to expect. I thought maybe there would be 50 kids or so there. Boy, was I dead wrong! There were about 100 cars in the field, which means there were at least 250 kids there. It was fantastic to see so many homeschooled children of all ages playing to gether, working together...what a wonderful experience. I was also thrilled with the Farm itself. Their pumpkin patch is what we were expecting, but we got so much more. Mainstay Farm's pumpkin patch is more "farm" and less "tourist trap" like so many pumpkin patches are. Now, don't get me wrong...we LOVE the Halloween-y pumpkin patches around here! But Mainstay sure had some great educational aspects to it that most patches don't have.

They have created a climbing fort/tree house thing for their goats that is amazing. It's all enclosed, so the kids can't go it. But they have created this contraption with hubcaps, belts, an old tin can & a handle that allows the kids to feed the goats at the very top of the fort. Check out the video of Reese wheeling up his can full of food for the goats. Once at the top, the can is dumped into a feeding bin & when the goats hear the "plink plink plink" of food dropping into the tin bin, they come RUNNING up the platforms to the very top! If you look closesly at the video, you can see the goats sticking their heads out of the platform looking down at Reese. He spent the most time at this activity, and what a great experience! Actual "handy work" was so rewarding to him.
---
The creepiest scarecrow we've ever seen!
---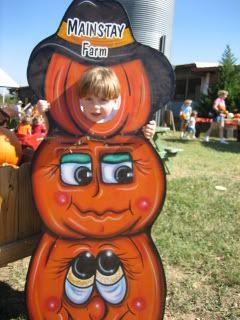 I am always surprised when we encounter other homeschoolers just how kind the older children are towards the younger children all on their own. Reese wanted to take a picture sticking his head through the pumpkin but he was too short to stand by himself, & I obviously couldn't take the picture if I held him up. This sweet little girl, about 10 years old, walked up & offered to hold Reese up so I could get his picture. There were other instances of this type of behavior while we were at Mainstay. A boy shared his goat feed with Reese, just because he wanted to. So many great manners, excuse me's & than you's. We dropped a water bottle from our backpack & a boy about 12ish just picked it up for us & handed it back. I compare this to the mall crowd & it speaks volumes. These older children at Mainstay set such great examples for Reese.
---
We've never taken Reese camping, so he got his first try at roasting marshmallows!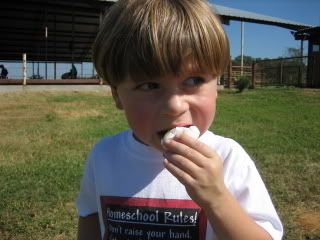 One bite & he decided "I don't like it Mama!". Guess the whole sticky-finger thing got him! He didn't have to twist my arm. I gladly ate the rest, and it was good!
---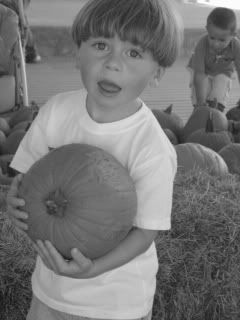 Check out my pumpkin! I just love the black & white setting on my camera!
---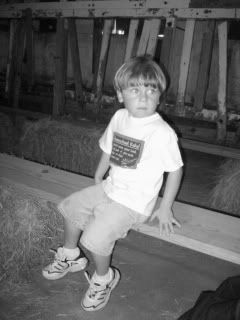 We watched a mini-movie about Texas Pumpkins in an old milking barn. Reese was so interested in the barn & the different "cow milking parts" that were still in there. They had the stalls where the cows were held during milking (you can see those behind Reese), and the pipes overhead where the milk was transported. You could just "feel" the history in this milking barn & Reese really was captivated by it. A handful of times during the movie, Reese would grab my cheeks & whisper "Mama, we're in a milking barn!".
---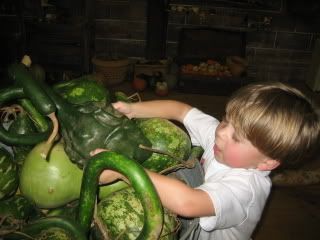 Part of our movie talked about the difference between pumpkins (edible) & gourds (inedible). Reese found a huge basket of gourds that had these great long stems. Such interesting colors, shapes, & textures!
---
Waiting for the hayride & dancing to the music!
---
Our day at Mainstay Farms was WAY more educational than I expected. On Thursday, we head to Homeschool Day at Ft. Worth Zoo, and I can't wait to be around a bunch of homeschoolers again!